El abogado de mala praxis puede asistirlo en su caso. En este tipo de situación, obtener ayuda de inmediato es una prioridad. Consiga ayuda de uno de los mejores abogados de mala praxis en su área.
Los casos de mala praxis médica son increíblemente complicados y el éxito depende de los buenos hechos defendidos por excelentes abogados. Las aseguradoras que representan a médicos y hospitales emplean regularmente a algunos de los abogados litigantes más experimentados por lo que se necesita un abogado seguro y firme para enfrentarse cara a cara contra estos equipos legales durante este tipo de litigio que habitualmente tarda años en resolverse.
Todo abogado de mala praxis médica debe tener el conocimiento suficiente en procedimientos clínicos, tecnología y terminología para hablar con autoridad con los expertos de "cabello plateado" que se contratan habitualmente para dar opiniones especializadas en estos casos. El abogado de mala praxis debe estar íntimamente familiarizado con los procedimientos de mantenimiento de registros y las abreviaturas utilizadas por enfermeras y médicos en los entornos clínicos, así como reconocer patrones y desviaciones que indican anomalías que afectan la atención del paciente.  
Por lo general, el abogado que maneja un caso de mala praxis trabaja en conjunto con un equipo de profesionales clínicos que lo asisten a identificar la mala praxis médica y determinar si esta es la causa de la lesión. Una vez que se ha establecido la mala praxis, el abogado de mala praxis médica debe probar todos los daños derivados de la misma, lo que puede ser un desafío cuando la mayoría de las víctimas de mala praxis se encuentran en mal estado de salud incluso antes de sufrir lesiones adicionales por este tipo de delito. Los abogados de mala praxis médica deben mantenerse al tanto de los desarrollos tanto en derecho como en medicina para poder proteger a sus clientes. Además, generalmente se requieren años para perfeccionar las habilidades de presentar una defensa a jueces y jurados en juicios de problemas médicos complejos. El abogado de negligencia no solo debe comprender los problemas, sino también explicarlos para que los miembros del jurado puedan comprenderlos. Debido al enorme costo de preparar un caso de mala praxis médica, los abogados especializados deben asegurarse de presentar solo casos válidos o se arriesgarían a sufrir enormes pérdidas financieras para ellos y sus clientes.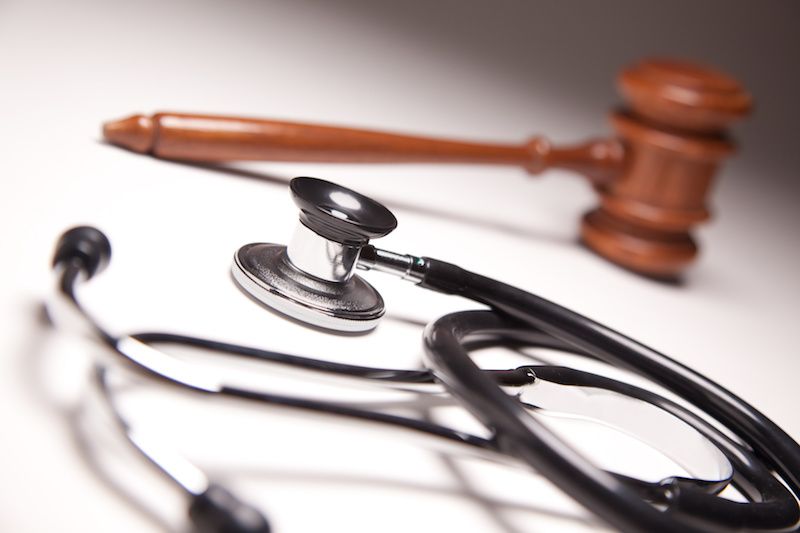 1. Estadísticas
Más de 400,000 personas mueren cada año en los Estados Unidos por errores clínicos. Esto es el equivalente a que una gran ciudad sea destruida cada año por equivocaciones de médicos y hospitales. El Journal for the AMA clasifica la mala praxis como la tercera causa principal de muerte en Estados Unidos detrás de las enfermedades cardíacas y el cáncer. La categoría más común de mala praxis son los errores de diagnóstico seguidos de faltas quirúrgicas. Aunque estos números son sorprendentes, los litigios por mala praxis representan menos del dos por ciento de todas las demandas presentadas ante los tribunales estadounidenses. 
Aunque los ejecutivos de atención médica a menudo señalan los veredictos de los tribunales como un factor de aumento de los costos de la atención médica, las estadísticas de litigios relacionados con las reclamaciones por mala praxis muestran que representan solo la mitad del uno por ciento de los costos de la atención médica. Los defensores de la reforma de agravios lamentan las oleadas de "juicios frívolos", pero un estudio de la Universidad de Harvard publicado en el New England Journal of Medicine determinó que el 97% de todas las denuncias por mala praxis tienen mérito. (El número alto se debe a que los abogados deben examinar con mucho cuidado esta categoría de casos o arriesgarse a la ruina financiera). El mismo estudio señaló estadísticas que indican una probabilidad mucho mayor de que los casos de mala praxis no se compensen y que los que no tienen méritos reciban un acuerdo monetario pagado por las aseguradoras. Si necesita asistencia jurídica, también puede encontrar asistencia jurídica adicional aquí y puede buscar un abogado aquí.  
2. Mala Praxis vs. Negligencia
La mala praxis y la negligencia son términos del arte que tienen significados similares pero diferentes. No toda negligencia se eleva al nivel de mala praxis y no toda mala praxis constituye negligencia. Para ganar un caso de mala praxis, se debe demostrar que el profesional clínico en cuestión se desvió del estándar de atención requerido en su puesto y que dicha desviación causó una lesión. El estándar de cuidado médico se define como lo que haría un profesional razonable en ese puesto y en la misma situación. Si el estándar permite algún acto negligente, el caso puede fallar. Los cirujanos han ganado casos tras dejar instrumental quirúrgico en el interior de los pacientes basándose en este razonamiento. Si bien la mayor parte de la negligencia clínica es mala praxis, algunas no lo son. La mala praxis también puede ser el cuidado realizado con habilidad insuficiente, o un acto intencional de mala conducta.    
3.Tipos de mala praxis médica
La mala praxis puede consistir en errores de omisión y de comisión. Por ejemplo, omitir un diagnóstico porque no se ordenó una prueba en particular sería un error de omisión. No arribar al mismo diagnóstico tras malinterpretar una prueba sería un error de comisión. Siempre que un médico se desvíe del estándar de atención aplicable, que está determinado por los estándares practicados por sus pares en la misma práctica, es mala praxis. Para ganar en la corte, se debe demostrar que tanto la mala praxis ocurrió como la negligencia causó daño a la víctima.
4. Reclamaciones Por Mala Praxis
Para presentar una demanda por mala praxis, la persona lesionada o los familiares sobrevivientes deben ponerse en contacto oportunamente con un abogado de mala praxis. Este tipo de abogado trabaja con profesionales clínicos calificados para determinar si es probable que se obtenga un resultado positivo en la corte. Este proceso se basa en registros que normalmente crea y mantiene el acusado potencial en un caso de mala praxis y, tras revisar los documentos, uno debe estar constantemente atento a las cuentas alteradas, eliminadas o revisadas del evento en cuestión. Todo esto debe hacerse de manera eficiente y rápida para mantener el cumplimiento de los plazos de presentación.  
5. Límites De Tiempo
Cada jurisdicción tiene un conjunto estricto de fechas límite para presentar una demanda por mala praxis que puede no ser las mismas que presentar otros tipos de casos en la misma jurisdicción. Si una instalación es mantenida u operada por una entidad gubernamental, puede tener un conjunto único de fechas límite que no se aplican a las empresas privadas. Los abogados de mala praxis deben estar familiarizados con la ley y el límite de tiempo para presentar casos en todas las jurisdicciones en las que ejercen. A menudo existen requisitos para presentar cierta documentación antes o junto con la defensa de una demanda por lo que los abogados deben vigilar atentamente los plazos asociados con cada caso y jurisdicción. Cualquier persona afectada por un error clínico debe actuar rápidamente para empezar la adquisición y revisión de registros, que a su vez puede llevar meses. 
6. Resultados
Como se mencionó anteriormente, menos del 1% de las víctimas de mala praxis reciben un veredicto favorable en la sala del tribunal, pero para aquellos que llevan su caso a la atención de un abogado calificado en mala praxis, las probabilidades son mucho mayores. En 2014, se pagaron casi $3,9 mil millones a víctimas de mala praxis. Aunque la reforma de agravios ha reducido el volumen de casos, el monto promedio de cada adjudicación ha aumentado a más de $250,000. Esto no significa que el resultado de cada caso sea una victoria, pero las víctimas de mala praxis con casos ganadores pueden esperar resultados razonables.   
7. Acuerdos
Las aseguradoras de mala praxis son muy conocidas por negarse a solucionar los casos que deberían resolverse antes de un juicio. Por lo general, las víctimas lesionadas deben contratar a un abogado, preparar el caso y estar listas para el juicio antes de que se ofrezcan acuerdos. Esto es particularmente cierto si el abogado tiene un historial de éxito deficiente o inexistente. Por esta razón, es imperativo contratar a un firme defensor de un caso de mala praxis.